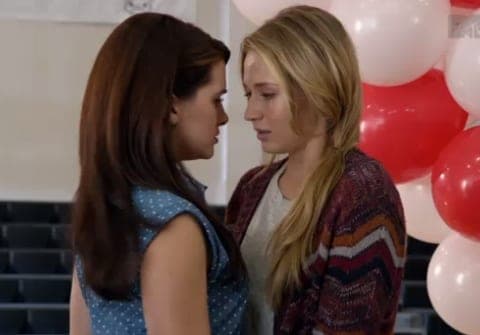 Amy and Karma can't seem to join any of the cool cliques at their high school. That is, until they attend a party hosted by the  A-gays. Afterwards, they find themselves skyrocketing into popularity by pretending to be a lesbian couple running for prom royalty.
How MTV plans on stretching this movie-length plot into an entire series (called Faking It) is beyond us. But at least it has talented actresses and lesbian storylines getting some long-overdue time on the small screen.
Faking It's showrunner Carter Covington said he was initially offended by the show's premise, until he received a call while working as a counselor on The Trevor Project's crisis hotline. The kid on the other end said, "I'm worried that my friends are only my friends because I'm gay."
"I was shocked. That idea seemed so foreign to me given the world I grew up in, but this kid explained that he went to a very tolerant high school where being gay was like a badge of honor. That's when I realized there are schools out there where being gay is no longer a problem, and tolerance is viewed as an asset. It made me think Faking It could work if we set it a high school like that and had one of the girls actually have a crush on her best friend."
Check out the trailer AFTER THE JUMP...
(via Out)