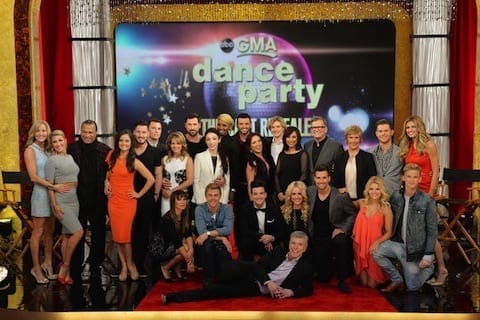 Check out our weekly guide to make sure you're catching the big premieres, crucial episodes and the stuff you won't admit you watch when no one's looking.
— Between tonight's return of Dancing With the Stars and the sixth season of RuPaul's Drag Race, we're concerned about the demand on the sequins industry. The ballroom dance competition introduces its 18th cast of celebrities -- including NeNe Leakes, Sean Avery and Candace Cameron Bure -- tonight at 8 p.m. Eastern on ABC.
More picks and clips, including Gwyneth Paltrow's return to the small screen, AFTER THE JUMP ...
— Glee celebrates its 100th episode Tuesday at 8 p.m. Eastern on Fox with a ton of returning cast members and special guests. Tune in to see the likes of Gwyneth Paltrow and Kristin Chenoweth, and think back on a time when this show was a lot more charming.
— Mariska Hargitay steps behind the camera to direct her first episode of Law and Order: Special Victims Unit Wednesday at 9 p.m. Eastern on NBC. The episode will guest star Alec Baldwin, Katie Couric and Questlove.
— We love Leslie Knope (Amy Poehler)'s made-up traditions on NBC's Parks and Recreation, but Galentine's Day may be our absolute favorite (followed closely by Tom and Donna's Treat Yo' Self). With Ann (Rashida Jones) no longer around, who will Leslie party with this year? We hope it's Craig (Billy Eichner). See Galentine's Day explained in the video above, and find out who she celebrates with Thursday at 8:30 p.m. Eastern.
— We'll watch Aisha Tyler in just about anything, including the CW reboot of Whose Line Is It Anyway? The improv sketch show returns for its second season (or tenth, depending how you look at it), Friday at 8 p.m. on the CW.
What are you watching this week?