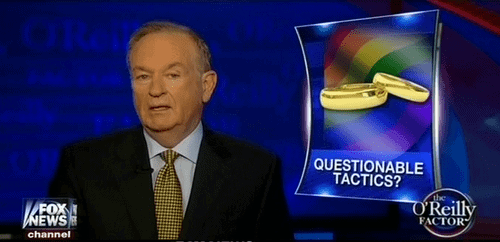 On Monday's edition of The O'Reilly Factor, O'Reilly and his guest contributors discussed the controversial resignation of Mozilla CEO Brendan Eich over his $1000 donation to California's anti-gay Proposition 8 campaign in 2008.
O'Reilly, for his part, thinks that the intimidation and fear tactics of gay activists have effectively silenced anyone with an opposing viewpoint on LGBT rights.
Said O'Reilly:
If you donate money to a traditional marriage cause, okay, we're going to hurt you. We're going to hurt you. We're going to find out where you live. We are going try to take your job. Maybe do vandalism to your home. [...]
Now there are threats and demonization. And that unfortunately, has put gay marriage over the top. That is the technique that turned the tide -- intimidation and harm. That's what won it.
Watch, AFTER THE JUMP...
Equality Matters responds:
While it's true that the names of donors to Proposition 8 are publicly available, there's no evidence of widespread intimidation or harassment by marriage equality supporters. The National Organization for Marriage (NOM), for example, has repeatedly tried and failed to demonstrate in court that supporters of Proposition 8 experienced serious "harm" from gay activists.
O'Reilly's latest diatribe contradicts his earlier declarations that supporters of marriage equality had won the battle of public opinion because of the strength of their arguments. In March of 2013, O'Reilly conceded that "the compelling argument is on the side of homosexuals," echoing his earlier statement that conservatives were losing the marriage debate because their case "wasn't strong enough."