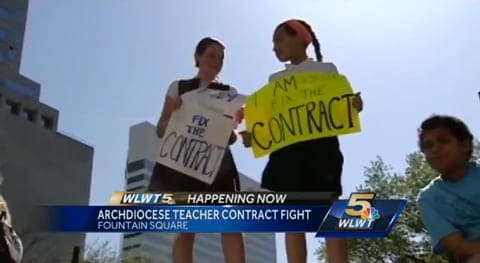 Cincinnati teachers and parents are protesting the local archidocese requirement that all Catholic school teachers sign a contractual "morality clause" forbidding any public or private support or practice of homosexuality, artificial insemination, pre- and extra-marital sex, or abortion.
At least a hundred Catholic teachers, parents and students protested at Fountain Square on Tuesday. Their message to the archdiocese: is fix the contract.
Protestors have signed a local petition with more than a thousand signatures. The national one has 23,000.They will walk to the archdiocese offices to deliver the petitions.
One of the teachers is refusing because of her gay son:
"The main reason I will not sign this contract is my son is gay, and the day he came out to me, the world was lifted off of his shoulder as well as mine, and it was at that moment that I said to myself I will never hide who he is, be embarrassed of who he is and at that point I said I'm going to use this opportunity to make a difference," Molly Shumate said.
Protestors hope to increase dialogue with the archdiocese and to revert to last year's teacher contract that did not contain the so-called "morality clause."
As we said earlier, presumably the archdiocese revised the contract to avoid high-profile firings like that of Mike Moroskin, the Ohio administrator who was fired for publishing a pro-marriage equality blog post last year, and Carla Hale, the Ohio teacher who was also fired last year after her mother's obituary listed the name of Carla's female partner.
You can watch video of the protest, AFTER THE JUMP...