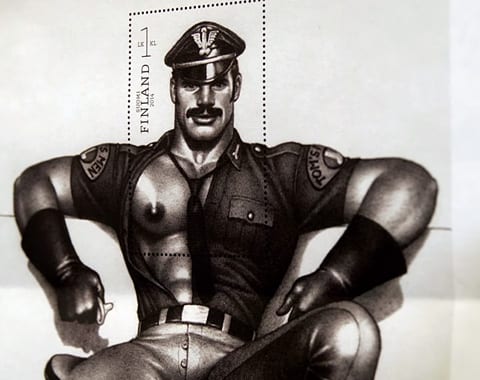 Finland is set to release postage stamps honoring the work of gay artist Tom of Finland:
The artist, whose work celebrates the male form and Itella describes as 'proud homoeroticism', was selected by graphic designer Timo Berry.
"The sheet (of stamps) portrays a sensual life force and being proud of oneself. There is never too much of that in this northern country," said Berry in an Itella press release.
The sheet of three stamps is to be released in September in conjunction with a new Postal Museum planned for the Vapriikki centre in Tampere.
Enjoy a 'making of' video (work-unfriendly), in Finnish, and a great bonus clip about the Tom of Finland Foundation in Echo Park, California, AFTER THE JUMP...
(work-unfriendly)
Here's the mini-doc on Tom's studio (from here):