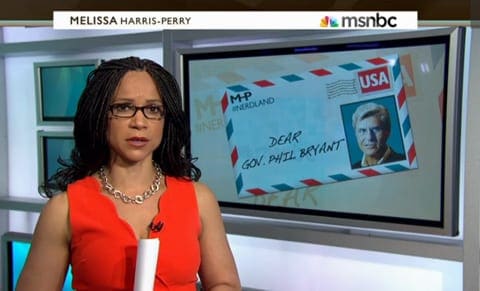 Late last week, Melissa Harris-Perry dedicated her letter of the week to Governor Phil Bryant for signing the anti-gay 'religious freedom' bill.
Said Harris-Perry in her video message:
It's not like the people of Mississippi are under the thumb of onerous state laws that protect LGBT people. Same-sex marriage is banned in Mississippi by constitutional amendment. You can't even have a wedding for a vendor to refuse to work!
And you can already be discriminated against for your sexual orientation in Mississippi. You can be fired or not hired just for being gay. You can be denied housing. So, governor, what you did was make it even easier than it already was to discriminate against LGBT Mississippians. To deny them services available to everyone else. Basically, you gave bigots yet another avenue to dehumanize their LGBT neighbors.
Watch it, AFTER THE JUMP...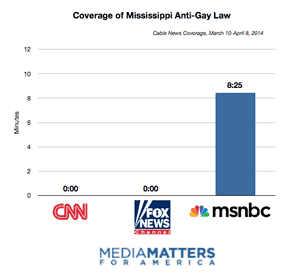 In related news, Equality Matters reports that CNN and FOX News completely ignored Mississippi's new anti-gay segregation law:
CNN and Fox's failure to cover the Mississippi law is the latest reminder of the media's short attention span. Mere weeks after key Fox personalities condemned the Arizona bill, many of those same personalities went right back to defending anti-gay discrimination this week, after the U.S. Supreme Court refused to reconsider a New Mexico Supreme Court ruling that a photographer had violated the state's non-discrimination law by refusing to photograph a same-sex commitment ceremony.
CNN, meanwhile, continues its hours upon hours of obsessive speculation over the missing Malaysian jetliner.
As Mississippi wages war on LGBT citizens' basic rights, two of the nation's leading news outlets apparently have nothing better to offer than silence.