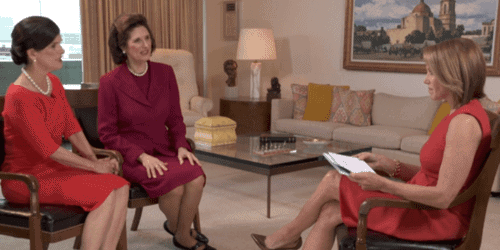 President Lyndon B. Johnson's daughters, Luci Baines Johnson and Lynda Bird Johnson Robb, believe their father would have supported marriage equality.
The two told told Katie Couric on Yahoo Global News:
"I think my father felt very strongly that when there was bigotry anywhere, prejudice anywhere, all of us lose out," Johnson said. "Because it's just one more expression of hate."

For her part, Robb said she didn't know what her father would say, because same-sex marriage was not an issue when he was in public life.

"It's hard to project what Daddy would have thought about that because that wasn't an issue that had come upon the stage at that time," Robb said. "But I know he really wanted everybody to be able to live up to the best that God gave them."

Both Robb and Johnson said they personally believe gay marriage should be allowed.

"I certainly think that, if God made you a homosexual, that you should have love and affection with somebody," Robb said. "And I would not want to deny anybody that opportunity to be happy."

"It's a great civil rights concern of our day," Johnson added.
Watch the interview, AFTER THE JUMP...
The late president signed the Civil Rights Act into law 50 years ago this year. Over the next few days, the LBJ Presidential Library at the University of Texas will mark the anniversary with a three-day summit on civil rights. Panelists will discuss a variety of current topics - including gay marriage.