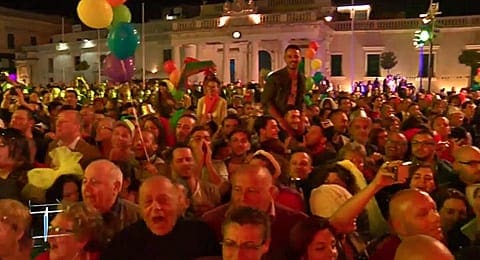 Heavily Catholic Malta passed an historic bill on Monday night legalizing gay civil unions.
There was an explosion of cheers in Palace Square as the vote was taken - 37 in favour and 30 abstentions. The façade of the palace was lit in the rainbow colours.
The opposition abstained from voting because of hesitation about gay adoptions:
The controversial law on civil unions was approved by Parliament this evening amid loud cheers and celebrations by about 1,000 people who gathered on Palace Square. The Opposition abstained. The bill puts gay partnerships on a par with marriage. Opposition leader Simon Busuttil said before the final vote that although the Opposition agreed with civil unions, it had reservations regarding child adoptions by gay couples and felt this issue deserved more study.
Check out the amazing video from Malta's Palace Square, AFTER THE JUMP...