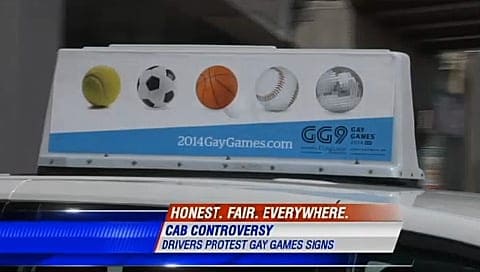 The 2014 Gay Games are set to take place in Cleveland from August 9-16 and The Plain Dealer is reporting that some drivers of the zone-based taxis operating out of Cleveland Hopkins International Airport have notified their bosses that they will not drive the cabs for religious reasons, because the cabs have signage advertising the Games.
Hopkins released a statement saying that two of the three taxi companies operating at the airport -- Ace and Yellow Taxi – were informed by several of their drivers they will no longer participate in the airport's dedicated taxi cab program.

Patrick Keenan, general manager for the third company, Americab, said two of his drivers also have opted not to drive because of the Gay Games ads. The drivers are Muslims, Keenan and Hopkins spokeswoman Jackie Mayo said.

The drivers told their companies that their decision was based on religious reasons, Hopkins said in its statement.
WOIO adds:
19 Action News reporter Brian Duffy spoke with about 20 cabbies at the airport who are still driving and all of them confirmed there are drivers who have walked off the job on protest. Representatives of AmeriCab, one of the three cab companies on the job at the airport, also confirmed the protest but say only one of their drivers has been reassigned.

We're told at least 16-17 drivers who work for Ace Taxi, another company working out of the airport, are no longer driving. We went to Ace but were told they were too busy to talk to us. Yellow Cab, a third cab company at the airport, never returned our calls.
Watch a report on the walk-off from Cleveland's WOIO, AFTER THE JUMP...
19 Action News|Cleveland, OH|News, Weather, Sports