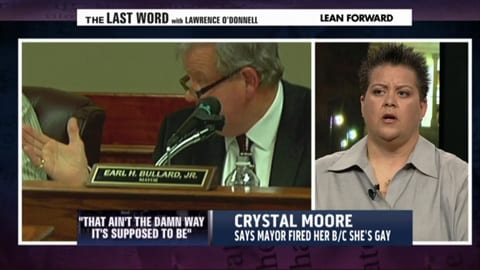 Last week, we reported the developing story on the controversial firing of Police Chief Crystal Moore of Latta, South Carolina. Moore says she was fired by Mayor Earl Bullard because of her sexual orientation, a claim backed up by a leaked audio recording of Bullard saying he'd rather have an alcoholic be responsible for his kids than a gay person with a "questionable" lifestyle.
The city council, which has been looking into the issue, is now taking action in defense of Moore.
Think Progress reports:
First, the Latta Town Council voted unanimously (6-0) on an emergency ordinance that blocks Bullard from replacing Moore for about two months. During that time, the town will have a chance to vote on a referendum adjusting the basic governing structure to grant more power to the council and less to the mayor. If that adjustment is made, council members say they will vote to rehire Moore.
In a separate symbolic vote, the council voted 6-0 to support Moore for her 20 years of service to the town.
Earlier this week, Moore also appeared on MSNBC to discuss her situation. You can watch the interview AFTER THE JUMP…