Disney Chairman Alan Horn delighted Star Wars fans everywhere when he told a crowd at the Loyola Marymount School of Film and Television in Los Angeles that Star Wars: Episode VII has begun shooting, Variety reports: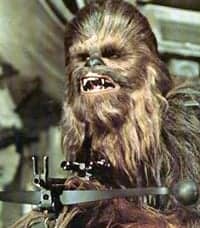 "We have a lot of them, it's not completely done yet," Horn responded when asked about casting, noting it as the most difficult part of putting the highly anticipated film together.
As J.J. Abrams prefers to keep details under wraps for most of his films, Horn declined to reveal any names. Variety, however, learned in February that "Girls" actor Adam Driver is in talks to play the villain. Actors being considered for the lead role include Ed Speleers, John Boyega, Jesse Plemons, Matthew James Thomas and Ray Fisher.
"We're actually shooting some of it now," Horn said, despite previous comments that filming would start next month.
Watch a bit of Horn's interview, AFTER THE JUMP...
Today, a bit more news about the production crept out when The Hollywood Reporter revealed that Peter Mayhew, the original Chewbacca, would be returning to reprise his role.
Carrie Fisher has said she'll be returning and it has been rumored that Mark Hamill and Harrison Ford will be back as well.