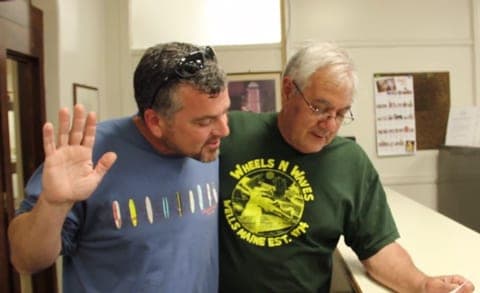 Compared to What: The Improbable Journey of Barney Frank — the documentary about the outspoken and openly gay former U.S. Representative from Massachusetts — will make its debut at the Tribeca Film Festival on April 27, but you can watch its trailer here.
According to OUT.com, "The documentary encompassed the time from Frank's coming out in 1987 (he was the first congressman to do so voluntarily) until his wedding to Jim Ready in 2012." But it mostly focuses on Frank's commitment to his congressional role as well as his eventual retirement from a job he seemed to love, as described in the Tribeca Film Festival program:
The film is a rare and intimate peek into the life of Barney Frank, the quick-witted, cantankerous, and first openly gay Congressman in the United States. On the verge of his retirement, Frank reflects on his 40 years in office and the role his own homosexuality played in his campaigns for social justice. A flawless example of when the personal meets the political, with incredible "bare all" access, this documentary reveals Frank as one of the most sharp-tongued, entertaining, and lionhearted politicians of our time.
The film was also executively produced by Alec Baldwin, the actor who has come under fire for using gay slurs against those who annoy him.
Watch the trailer AFTER THE JUMP...