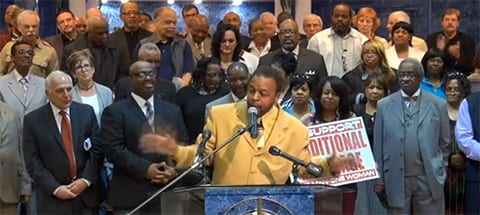 A group of conservative African-American Christian ministers filed legal briefs on Wednesday in support of Michigan's ban on same-sex marriage, joining an even larger coalition of Christians who have also taken legal action to keep bigotry alive in the Great Lakes State, according to USA Today:
Representing potentially millions of worshippers in the state, the Michigan Catholic Conference, the Thomas More Law Center in Ann Arbor, Mich., and a national coalition of Baptists, Lutherans, Mormons and evangelicals led by Catholic bishops filed three separate briefs Wednesday in the U.S. 6th Circuit Court of Appeals in Cincinnati. The briefs back Michigan Attorney General Bill Schuette in his efforts to defend the state's voter-approved ban on same-sex marriage, which was overturned earlier this year by a federal judge in Detroit.
Michigan's constitutional amendment banning same-sex marriage was passed in 2004 but struck down in March of this year by Federal Judge Bernard Friedman (a Reagan appointee).
At a rally held on Wednesday by by African-American ministers at First Baptist World Changers International Church in Detroit, Pastor Roland Caldwell of the Burnette Inspiration Baptist Church of Detroit issued a call to action to opponents of gay marriage:
"We've got to tell the preachers that are standing up for homosexuality that either you are with God are you are against Him. And if you are against God you are against me. We cannot promote any more preachers that are promoting sin. We cannot promote any more pastors that are allowing homosexuals to run their church…we must step back and tell them like my cousin told a preacher, 'You are my enemy!'…and now the fight is on!"
The legal brief filed by the black ministers on Wednesday took issue with comparisons between the battle for LGBT rights and the civil rights movement of the 1960s, in particular comparisons that have been made by judges between the 1967 case of Loving v. Virginia that legalized interracial marriage and the question of marriage equality:
Comparing the gay rights movement to black civil rights is "ignorant and myopic," said Richard Thompson, president of the Thomas More Law center, who attended the rally in Detroit to show support.
Hateful comments were liberally on display at the rally in Detroit, with gay marriage being broadly denounced by the assembled group of ministers:
Gay marriage would "destroy the backbone of our society," said the Rev. Stacey Swimp of Flint, Mich.
"We love everybody, but we don't love the (gay) lifestyle," said the Rev. Rex Evans, pastor of Free Will Baptist Church in Ypsilanti, Mich. He said there's a "small group of people trying to destroy the foundation" of the U.S. "It's time to take our nation back."
You can watch a video of the rally and Pastor Caldwell's speech, AFTER THE JUMP...