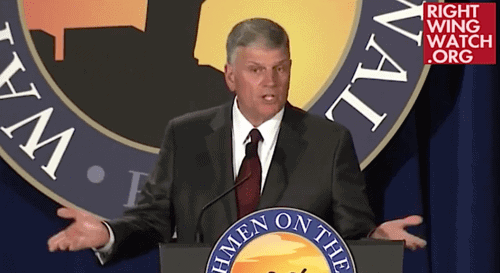 At the Family Research Council's Watchmen on the Wall conference last week, anti-gay preacher Franklin Graham blasted church leaders who fail to use the pulpit to push a conservative social agenda regarding abortion and homosexuality - calling such pastors "cowards."
The Christian Post reports:
"God hates cowards. And the cowards that the Lord is referring to are the men and women who know the truth but refuse to speak it."
In his remarks at the dinner session, Graham spoke about the need for churches to speak out against abortion and homosexuality, declaring that "you're not going to shut me up."
"We have a responsibility to speak on the moral issues. Abortion, homosexuality, these are moral issues. This is a free country, you can do what you want to do but I want you to know it's a sin against God. This is a sin," said Graham.
Watch a clip of Graham's speech, in which he casually mentions that Christians may one day get their "heads chopped off" for speaking out against homosexuality, AFTER THE JUMP...
This is also the same conference that Duck Dynasty star Alan Robertson called his father Phil Robertson a "21st century prophet" for comparing homosexuality to bestiality and saying homosexual sinners were going to hell like terrorists, prostitutes, and drunks.