After being invited, un-invited, then re-invited, Dustin Lance Black finally delivered the commencement address for Pasadena City College this past Friday.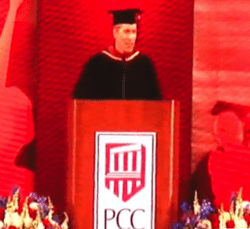 The Examiner describes his introduction by one of the graduates:
On Friday as the sun was setting on the completely filled stadium (with families and friends waiting outside), Lance walked with the Board of Trustees to the podium after being introduced by a student who called Lance his "hero," Associated Students President Jordyn Orozco.

"I'm glad that he accepted the invite (again)," said Orozco, who presented the award-winner with a poster of "Milk" about gay activist Harvey Milk, which was signed by the students.
According to the LA Times, Black opened his speech up with a lighthearted introduction: "Hoo! I made it!"
Watch video of Black's speech, AFTER THE JUMP.