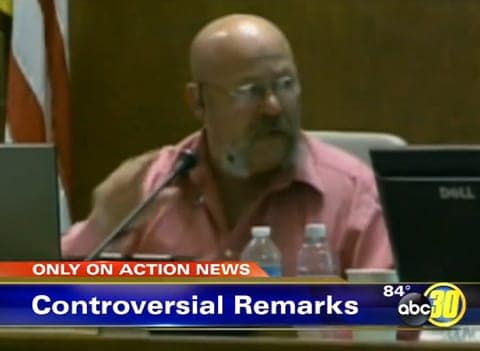 At a May 6 city council meeting, when councilwoman Virginia Gurrola suggested that the city of Porterville, California support a student-led anti-bullying program called "Safe Zones," the current mayor Cameron Hamilton suggested that bullied kids "grow a pair."
The Visalia Times-Delta reports:
Designed to provide safe places for children to go when they are being bullied, such ("Safe Zone" bully-free) locations would be designated with a sign or sticker…
With their trusty laptops in front of them, some of the council members did an immediate search on "Safe Zone". As there are several programs with that name around the country, and many of them geared towards the LGBT community, a red flag (or more precisely, a rainbow flag) went up…
Mayor Hamilton was having none of that. "I'm against bullying," he said, "but I'm getting damn tired of it being used as a mantra for everything, and the ills of the world. All most people just have to grow a pair, and stick up for them damn selves."
Gurrola reportedly responded, "It's hard to just grow a pair when you're a 10-year-old girl."
The same report adds:
"Mayor Hamilton is the only person to vote against the item last week. So Safe Zone will be talked about next Tuesday. Action News reached out to the Mayor repeatedly for a comment and did not hear back from him. A few council members declined comment as well."
Local reporter Jim Reeves says that the city's anti-gay fervor caused the council to rescind a 2013 mayoral proclamation declaring June as LGBT Pride Month under the previous mayor.
See video AFTER THE JUMP...