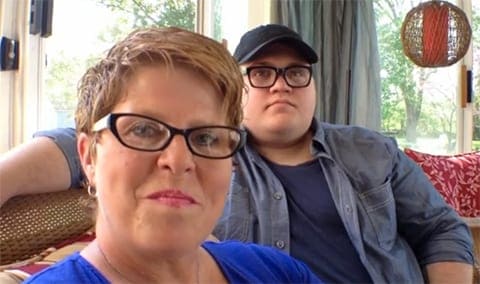 Catholic first grade teacher Molly Shumate has taught for 14 years in the Cincinnati Archdiocese. But citing her support of her 22-year-old openly gay son Zach, this year will be her last, namely because she refuses to sign the archdiocese's new contract forbidding teachers from the personal practice or public endorsement of the "homosexual lifestyle."
In a video interview with Cincinnati.com, Shumate said:
"As soon as I heard the wording of the new contract, I knew it was something that I wouldn't be a part of. It was really a no-brainer for me. The difficult part is I love teaching, I love the school I teach at, I love the children that I teach.
"However when Zach came out to me on that very difficult day for him, the world lifted off of his shoulders as well as lifting off of mine and God gave me a gift that day. He changed me as a person to be so much more accepting of so many other people and to see people's differences.
"The fact that my life changed that day and I swore to Zach as well as our entire family that I would accept him and love him for whomever he is, it was at that moment that I said I will not go back on my word. The way that the contract is worded is telling my son that I don't support him and I don't stand behind him 100 percent. And to me, that's just taking too many steps backward that I won't do at this point in my life or in his."
Cincinnati.com elaborates on the clashes over the new contract and the Church's refusal to re-negotiate its terms:
The "morality" clauses – though not unique among Catholic schools nationwide – were a first for the 19-county Archdiocese school system.
It ignited a raging public battle, including a protest march Downtown and online petitions signed by thousands. And this week, 12 billboards opposing the contract dot the area… The 12 billboards were paid for by the Cincinnati Voice of the Faithful, which for more than a decade has criticized the church's alleged lack of transparency and accountability regarding the sexual abuse of children... 
While Shumate is the first teacher to publicly resign in protest of the new contract, hundreds of Cincinnati students, teachers and parents have publicly protested it as well.
Watch the interview AFTER THE JUMP...