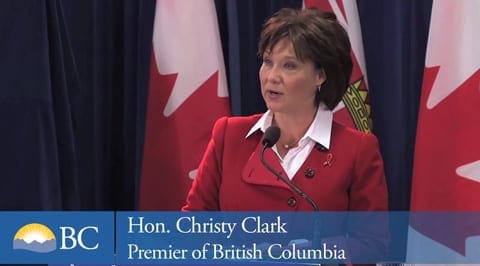 Premier Christy Clark along with UN under-secretary and executive director for UNAIDS, Michel Sidibé, and Dr. Julio Montaner, director for the BC Centre for Excellence in HIV/AIDS, and Health Minister Terry Lake closed the AIDS ward at St. Paul's hospital in Vancouver yesterday at a major press conference:
"This is a proud day for British Columbians as we mark another milestone in our leadership in the fight against HIV/AIDS," said Premier Clark. "Thanks to the dedicated efforts of the community, those at the BC Centre for Excellence in HIV/AIDS and health professionals across the province, a ward that once served those dying from AIDS, now supports those living with HIV."
Ward 10C at St. Paul's Hospital in downtown Vancouver was originally opened as an AIDS ward in February 1997 during the peak of the HIV and AIDS epidemic in the city, when approximately one person was dying of AIDS every day. Earlier diagnosis of HIV, along with advances in treatment and care, has resulted in a significant decrease of AIDS. Patients living with HIV will continue to receive world-leading treatment and care. The focus of the ward will include treatment related to addictions such as various bacterial and viral infections like chronic hepatitis.
"British Columbia's dedication to the fight against HIV/AIDS has meant that we have reduced AIDS cases in Vancouver by over 80% since 1996," said Lake. "With continued focus on providing care, treatment and support for those living with HIV and related diseases, more British Columbians will live longer, healthier lives."
Watch Clark make the announcement, AFTER THE JUMP...