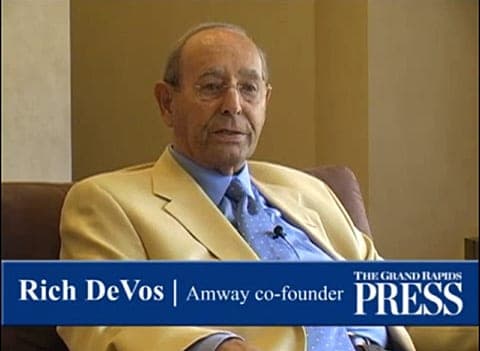 Donald Sterling worked the entire nation into a righteous anger when a recorded conversation of him making extremely racist remarks to his girlfriend was leaked to the world. It wound up costing Sterling his basketball team the L.A. Clippers, millions of dollars in fines, and being permanently banned from the NBA. Justice was served.
However, Craig Crawford at Huffington Post notes that in stark contrast to the furor over Sterling, little was said over the DeVos family, who owns the Orlando Magic, collectively donating millions to anti-gay causes. For a bonus dose of victim-blaming cruelty, patriarch Richard DeVos said of people with AIDS:
At the end of that I put in the document, it was the conclusion document from the commission, that actions have consequences and you are responsible for yours. AIDS is a disease people gain because of their actions. It wasn't like cancer.
That was said 5 years ago, and yet, crickets.
You can watch a video of Richard DeVos voicing his rationale for his opposition to gay marriage and equal rights AFTER THE JUMP...