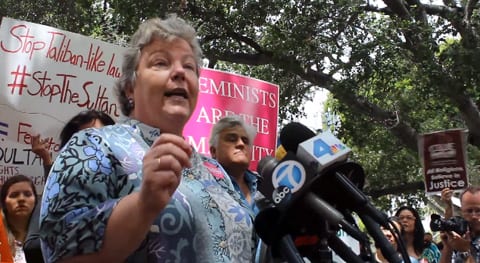 A major protest was held on Monday outside the Beverly Hills Hotel in support of what's become a very large boycott against Dorchester Hotels, which are owned by the Sultan of Brunei, over his implementation of an anti-gay law which punishes homosexual acts with death by stoning.
Jay Leno was among the celebrities attending the demonstration, Variety reports:
"What year is this? 1814? Come on people, it's 2014," said Jay Leno, before some four dozen protesters with banners directed at the Sultan, including one that read, "Seriously, dude?"
"Evil flourishes when good people do nothing, and that is pretty much what this is," Leno said at the rally, adding that the issue should hardly be divisive but was a matter of "common sense."
The paper adds:
At the rally speakers that condemned the Sultan included Leno, wife Mavis, the Feminist Majority's Kathy Spiller and Eleanor Smeal, labor activist Dolores Huerta and Lorri Jean of the Los Angeles Gay and Lesbian Center. The event was held at Will Rogers Park, just across the street from the hotel, with speakers set up before a bank of a dozen news cameras and with the hotel's iconic logo as a backdrop.
Jean denounced religion as a justification for violence abroad and here in the U.S.
Watch her fiery speech, AFTER THE JUMP...
Other high-profile figures and organizations boycotting the hotel chain are Sir Richard Branson, actor Stephen Fry, designers Peter Som and Brian Atwood , Ellen DeGeneres, Sharon Osbourne, director William Friedkin, and the Outgiving conference.