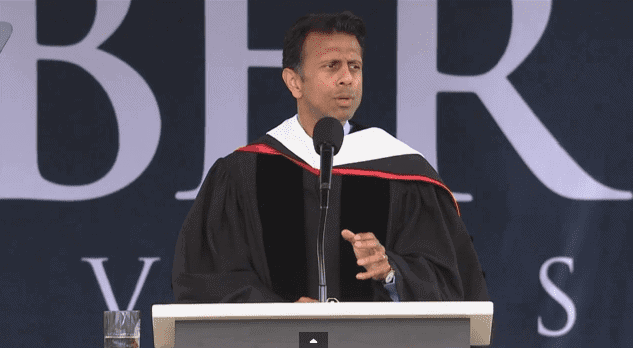 Governor Jindal made the remarks during a speech yesterday's commencement for Liberty University, the private Christian college founded by Jerry Falwell. One of the main topics he addressed was his concern about "the war on religious liberties."
Sitting in the front row during the event were anti-gay brothers David and Jason Benham, whose HGTV show was canceled last week and who themselves graduated from Liberty in 1998.
According to KTBS, Jindal defended the brothers:
And the same thing happened again just this week, with another demonstration of intolerance from the entertainment industry. HGTV was working on a new show featuring the Benham brothers, twin brothers who graduated from right here at Liberty University in 1998. But HGTV cancelled the show this week, allegedly because they learned that one of the brothers protested at the Democrat Party Convention, and the other had protested at an abortion clinic. Think about that for a minute. If these guys had protested at the Republican Party Convention, instead of cancelling their show, HGTV would probably have given them a raise.
Aside from the Benham brothers, Jindal's speech also included words of support for Hobby Lobby stores and Duck Dynasty star Phil Robertson, who he defended during the height of that controversy last year.
Video of the entire commencement ceremony is AFTER THE JUMP. Jindal comes in shortly after the 2 hour and 5 minute mark.