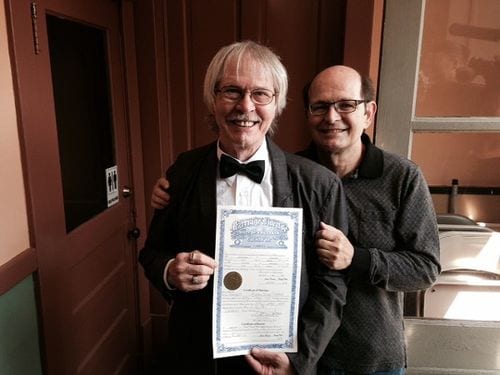 Some more photos courtesy of Kat Wilson and Grav Weldon of the historic first same-sex marriages that took place in Eureka Springs, Arkansas earlier today.
Zeek Taylor and his partner of 42 years Dick Titus [pictured above] were one of the first lucky couples to obtain a marriage license at the Carroll County courthouse.
Check out some of the other couples, AFTER THE JUMP…
And with still no word on whether Judge Chris Piazza will issue a stay of his Friday ruling striking down the state's ban on same-sex marriage, the door remains open for courthouses across the state to issue marriage licenses to same-sex couples come Monday. Uncertainty remains on the minds of many county clerks, however...
Unlike most other courthouses in Arkansas, the Carroll County courthouse is open on Saturdays.
Marie Howard (right) and Trella Laughlin. [via Instagram]
Jane Osborne, the deputy clerk who began issuing the licenses
 crowd gathered outside office
Katherine Uselton and Jessica Lynn Greene with their children.