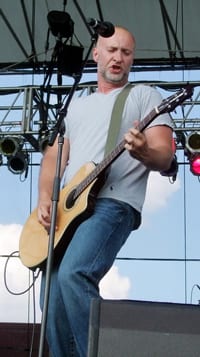 Before former Husker Du frontman and current bear DJ Bob Mould came out in a mid-90s interview with Spin magazine, he worried that doing so would overshadow his music.
Mould recently told Uncut magazine:
"Coming out was different than it is now and I'd always placed a premium on privacy. I didn't feel comfortable identifying myself as a gay musician. I wanted to be a musician and if I happened to be gay, that's great too...
"But Spin led with a saucy byline, something like 'I'm not a freak'. I was like, 'Oh, of everything I said, that's what you're gonna put on the cover? The gay community's gonna kill me.'
"That's not me. I'm not a freak. I'm a normal person. Again, I worried about it way more than anybody else. It didn't really make much difference."
Mould also recently dropped the second single from his upcoming album Beauty & Ruin entitled "I Don't Know You Anymore" (the first single off the album was "Hey Mr. Grey). The album comes out in North American on June 3.
Listen to the tracks AFTER THE JUMP…
"Hey Mr. Grey"
"I Don't Know You Anymore"