Young joins a growing number of public health workers leveraging the power and reach of social media. A 2012 study by researchers at Brigham Young University found that over 60 percent of state public health departments utilized at least one social media application. Last May, several US government agencies joined the AIDS nonprofit amfAR in hosting a meeting for public health leaders in Washington, DC to discuss how the internet and social media can advance the fight against HIV for men who have sex with men and transgender individuals (GMT).
"We must better use communication technology and social media platforms in order to confront the epidemic among gay men, other MSM, and transgender individuals in the US and internationally," said Kent Klindera, director of amfAR's GMT Initiative at the event.
Increased attention to HIV outreach through social media is particularly relevant because African-Americans and Latinos, as well as men who have sex with men, are the greatest social media users — as well as those at most risk for contracting or spreading HIV.
In Young's studies, over the course of 12 weeks, volunteers — many of whom were men who have sex with men and African-American or Latino themselves and thus called 'peer leaders' — interacted with the Facebook groups, which drew in some people who were not necessarily open to receiving HIV prevention information and others who were looking for support. Leaders in half of the groups talked about health in general, and in the others specifically discussed HIV prevention.
"The leaders talk to their groups, hoping to gain each member's trust," Young said. "These conversations turn into relationships where peer leaders are trusted and can teach about prevention and testing."
Young's team then tracked how many conversations people were having within the Facebook groups and how long people stayed active in the groups after the trial period ends.
"We found engagement rates are high, over 12 weeks. Eighty percent of group members stay involved and continue to interact," he said.
Darryl Lampkin, the community program supervisor for the San Mateo County Health Department, has found similar success using social media as a form of outreach in his community.
In the past, Lampkin has generally relied on more traditional forms of HIV outreach such as mobile clinics, walk-in hours at local hospitals, and referrals. But over the past few years, he has turned to social media to help the health department reach an increased number of men who have sex with men. In San Mateo County, this community has the highest new transmission rates but is particularly challenging to reach through traditional street outreach efforts, Lampkin said.
"In our jurisdiction there are no physical venues for gay men to hook up with each other—no bars, no clubs, no community centers, and no affinity groups around men who have sex with men," he said.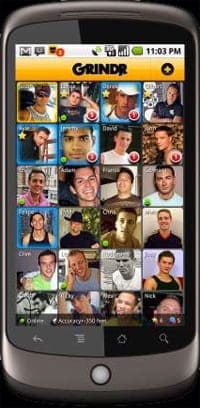 In 2011, Lampkin attended a conference on technology and youth health where he learned about HIV researchers recruiting test subjects on the social media platform, Grindr. Through the site, a social networking app aimed to link gay, bisexual, and bicurious men, researchers were studying members' attitudes towards HIV testing, as well as obtaining information about testing history and results. Their work inspired Lampkin to think about how Grindr could be used in his county as a platform for intervention.
"We knew we had to figure out a different strategy," Lampkin said. "We decided to create [Grindr] profiles and allow people to approach us, then establish rapport with them before explaining why we are online," he explained. Lampkin's Grindr outreach is now in its second year.
The goal is for the team to first engage, then educate people about how to reduce their risk of getting STDs, Lampkin said. This is followed by an in-person meeting for testing, an effort to link those who tested positive with treatment, and then follow-up to make sure that anyone who received medication for HIV or other sexually transmitted disease continues to stay on their regimen.
Lampkin noted that if the online conversation veers off of the topic of HIV, or if the person is not interested in receiving information, his team would no longer pursue the conversation.
Before using Grindr, Lampkin said that his team could reach about 60 people in a six-month period relying only on traditional outreach methods. With this year's social media outreach, he said, the team has engaged with over 900 people in the same period of time.
"This is just amazing to us, given that we can't generally walk out into our community and identify who these men are," Lampkin said.
While Lampkin stressed that his experience of using Grindr as a form of outreach is specific to the context of suburban and rural areas with no physical venues for men who have sex with men to congregate, both Lampkin and Young have separately worked with public health activists in South America who are eager to implement social media outreach in high risk communities.
Young, for instance, trained Peruvian peer leaders in 2012 to run the same 12-week Facebook program that he has found successful in the US.
"In running the trainings, we found that Peruvians loved social media, specifically Facebook." Young said. "I think that shows internationally there is a growing interest in using these technologies to connect with each other and other people."
And last February, Lampkin was asked by the Brazilian Health Ministry to look at ways health officials there might use social media to reach their population of men who have sex with men.
"[They] were excited about Grindr-based intervention, because many men who have sex with men are using the internet and Grindr to find sexual contacts," Lampkin said.
Despite their successes, both Lampkin and Young are aware of the challenges for health workers using social media, including keeping up with constantly changing technologies.
Then there are the lingering questions about the ethics of using social media for HIV and health outreach.
Many sites, including Grindr, have rules about solicitation on their platforms and discourage researchers from recruiting for or conducting health studies on their sites.
"I get it," Young said, of Grindr's restrictions, though he has never bumped up against them in his own research. "They are a business and are concerned with decreasing business returns after being associated with HIV prevention and testing."
Lampkin has not had a problem with Grindr, either, but is also aware of the risks.
"We are not actively pursuing or soliciting anyone. Grindr users are contacting us. We tell them why we are online and if they don't want to talk, we don't pursue them," he said.
Grindr declined to provide an interview to GlobalPost in time for publication, but said in a written statement, "we welcome working with non-government organizations to educate and promote safe sex within the community. However, as part of our terms of service, we do not allow paid or pro-bono advertising within user profiles."
The social media platform also said it has partnered with many HIV and STD prevention and awareness organizations aimed at educating their users.
As for the future of social media HIV outreach, Young says the next wave of research will involve using social media and new technologies to learn about high-risk populations to understand and prevent HIV outbreaks.
"There is unlimited potential in how we can use social media not only for HIV but across the health board," he said.