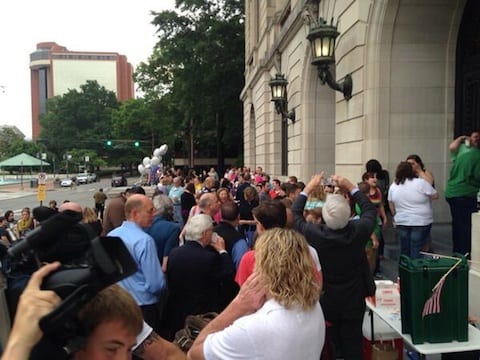 (image twitter maxine ridling)
Hundreds of gay couples are filing into the Pulaski County Arkansas courthouse as we speak to be issued marriage licenses.
County Clerk Larry Crane plans to issue them under Judge Chris Piazza's ruling last week.

Most counties in Arkansas will not be issuing licenses, relying on legal guidance that — if the counties were not defendants in the case (only six were) — and absent a direct order to cease discriminatory practices, the state ban remains in place in those counties. At least one county that IS a defendant — Lonoke — apparently has announced it will not issue licenses. 

Several counties hoped to raise an objection about lack of proper software as a delaying tactic in hopes a court will stay the order. But even the county attorney in Republican Benton County, while claiming exemption for that county because it isn't a defendant, said claiming lack of software was a poor excuse. The counties could simply return to using paper and typewriters as they did in the pre-computer days. Perhaps a request for a contempt of court order would get Lonoke's attention.
More from the Benton County Clerk:
Benton County Clerk Tena O'Brien said Benton County was not a party to the Pulaski County case. She said until a court having jurisdiction over Benton County makes a determination similar to that made by the Pulaski County Circuit Court, Amendment 83 remains binding in Benton County and will be respected.

The county clerk said the decision is not a stance against gay marriage. She said if the law requires it, she will issue the licenses.
Watch a brief Instagram video of inside the courthouse, AFTER THE JUMP...
Hundreds heading into Pulaski Co court to line up for marriage licenses. #arnews #samesexmarriage pic.twitter.com/Iop3TmLA6R

— Maxine Ridling (@MAXridling) May 12, 2014
Arkansas native and HRC head Chad Griffin is on hand:
"Today wedding bells are ringing in the great state of Arkansas." -HRC Pres Chad Griffin at Pulaski co courthouse. pic.twitter.com/iqfvvG0SXM

— David Ramsey (@ArkDavey) May 12, 2014