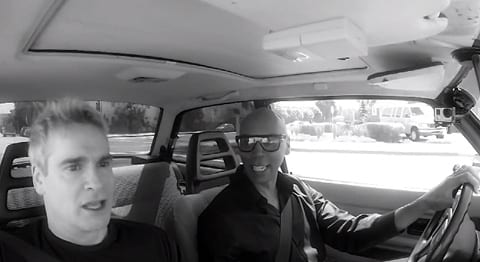 DILFy punk rocker, spoken-word poet and gay ally Henry Rollins took a ride with drag superstar RuPaul for Ru's vehicular webseries. In fact, part one of their drive is here, but in this installment they discuss an invaluable piece of advice that Rollins received from a close friend who called him out for always staying busy. 
Although we've always dreamed of Rollins being in a secret gay relationship with rocker Glenn Danzig, Rollins is not actually gay — and would admittedly kick your ass if he was. He has however been an outspoken advocate of marriage equality, going so far as to blast House Speaker John Boehner's defense of the so-called Defense of Marriage Advocate, to sympathize with closeted politician-slash-toilet tramp Larry Craig and to clown the homophobic Duck Dynasty guys by suggesting that they re-imagine themselves as bears. 
Watch AFTER THE JUMP...