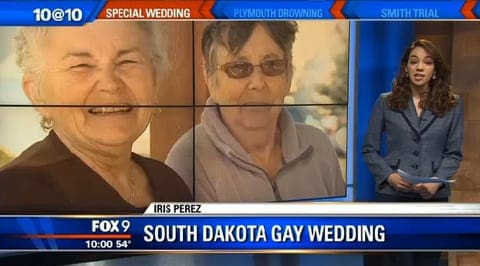 North Dakota is now the only state left with an unchallenged gay marriage ban on the books after Montana's this week, and now South Dakota's, became the target of federal lawsuits.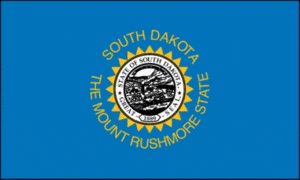 Six couples filed suit Thursday in Sioux Falls challenging the state's ban, the Argus Leader reports:
Nancy and Jennie Rosenbrahn and five other South Dakota couples filed a lawsuit with the U.S. District Court just before 5 p.m. Thursday that seeks recognition of same-sex marriage in South Dakota, their lawyer Joshua Newville said.
"With the filing of this lawsuit, South Dakota will join the many other states in the nation who are engaged in a historic and very important discussion about it what means to treat each other equally under the law," Newville said....
...The lawsuit claims a 1996 state law and subsequent 2006 constitutional amendment making same-sex marriage illegal in South Dakota violate the U.S. Constitution. The complaint also challenges the state's right to not recognize same-sex marriages carried out outside of the state.

The five other couples involved in the lawsuit include: Jeremy Coller and Clay Schweitzer, Lynn and Monica Serling-Swank, Krystal Cosby and Kaitlynn Hoerner, Barbara and Ashley Wright, and Greg Kniffen and Mark Church.

Aside from Cosby and Hoerner, each couple involved in the lawsuit has been legally married outside of South Dakota.

Defendants named in the lawsuit include: Gov. Dennis Daugaard, Attorney General Marty Jackley, Secretary of Health Doneen Hollingsworth, Secretary of Public Safety Trevor Jones, Pennington County Register of Deeds Donna Mayer, and Brown County Register of Deeds Carol Sherman.
Robrahn and Rosenkranz married last month in Minneapolis (the mayor of Minneapolis officiated) with the intent of returning to South Dakota to file the lawsuit and challenge their home state.
Newville is considering challenging North Dakota's ban as well.
Watch a report on their wedding filed last month, AFTER THE JUMP...
KSFY News – Sioux Falls, SD News, Weather, Sports