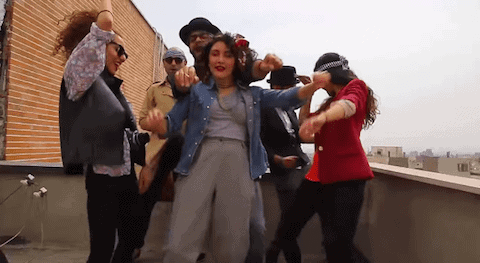 From MTV:
"Happy in Tehran" was uploaded to YouTube last month and garnered more than 165,000 views before being made private. It shows three men and three women — all unveiled — looking, well, happy as they dance and lip-synch to Pharrell's hit.

But authorities in Tehran are calling the video "vulgar," and all six were arrested and forced to formally apologize on state television. (Under Islamic law, women are required to cover themselves from head to toe in public, a rule monitored by "morality police.")
Last month one of the dancers said in an interview, "We wanted to tell the world that the Iranian capital is full of lively young people and change the harsh and rough image that the world sees on the news." The irony - which seems to be making the rounds this week - is thick enough to spread on toast. There's also something cringe-worthy when Tehran police chief Hossein Sajedinia says that the video "hurt public chastity."
Fortunately most of the people involved in the video have been released, though the video's director remains in custody.
You can watch the "vulgar" display of happiness AFTER THE JUMP...