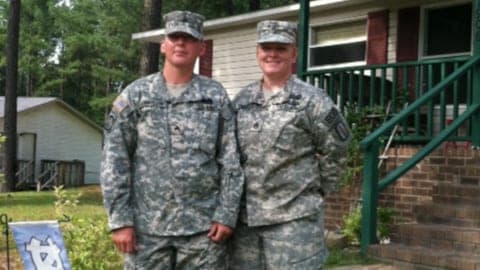 The lesbian widow of an Army National Guard Staff Sergeant killed in Afghanistan back in October 2012 will finally receive survivor benefits from the Department of Veterans Affairs, The Washington Blade reports:
During her speech upon receiving an award at the inaugural dinner in D.C. for the American Military Partners Association, Tracy Johnson said she received a notice in the mail earlier in the month verifying that she would be eligible for survivor benefits. They would be retroactive, she said, to the time of the death of her spouse, Staff Sergeant Donna Johnson, who was killed on patrol in Afghanistan on Oct. 1, 2012. "This decision from the Department of Veterans Affairs is an important step toward our end goal of achieving equal treatment for all military families," Tracy said. "This would not have been possible without your support." But Tracy also said her work isn't done and her "biggest goal," which has yet to be achieved, is to get the Army to change Donna's death certificate to recognize their marriage.
Johnson's announcement came just days before Veterans Affairs Secretary, General Eric Shinseki, and President Obama spoke out about reports of corruption and excessive back-log at the VA.
Johnson first filed for survivor benefits in January of 2013 and again in July of that year after the Supreme Court struck down key provisions of DOMA:
She said she was never denied benefits, but was told the administration was evaluating her case and would reach out to her with any questions. Her understanding, she said, was the process for receiving the benefits could take anywhere from two to three months or up to a year if the claim is contested. Tracy refused to disclose the amount of initial money she received with her final notification, but said the monthly entitlement was $1,233 and the payment start-date is retroactive to Nov. 1, 2012.
At stake in the VA's decision to grant Johnson benefits is a specific provision of Title 38 that has enormous impact on whether military spouses in same-sex marriages can receive benefits. Section 103(c) of that statue "looks to the state of residency, not the state of celebration, when determining whether a couple is married." Previously, The White House and Attorney General Eric Holder announced they would neither defend nor would they enforce Title 38 of the military code that was then being used to deny gay veterans spousal benefits. In reaching this decision, the DOJ cited the Supreme Court's ruling in United States v. Windsor, noting that while the court did not directly consider Title 38, its decision on DOMA was enough to make it clear that Title 38 violated the 5th Amendment of the Constitution. 
However, even after this decision from the DOJ, section 103(c) of Title 38 still appeared to be in effect, restricting benefits only to same-sex couples who lived in states where same-sex marriage was legal. This then excluded spouses of LGBT service members from receiving benefits, survivor or otherwise, if they lived in a state where same-sex marriage wasn't recognized. What's remarkable about Johnson's case is that though she was married in Washington, D.C. where same-sex marriage is legal, she resides in North Carolina where it is not. Consequently many have been left wondering whether the VA's granting of benefits to Johnson signals a shift in VA policy whereby all spouses in same-sex marriages would be eligible to receive benefits regardless of where they reside in the U.S. 
For her part, Johnson hopes that others will follow her in applying for and receiving the benefits they deserve:
"We're all in this together; it wasn't just me getting awarded these benefits, and then just turning my cheek and walking away. This isn't just about me; it's about all of us fighting the good fight for the right reason."