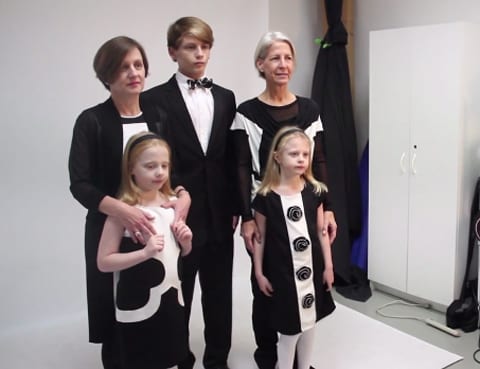 Right now, a new documentary about lesbian families living in Alabama is raising money on IndieGoGo. It's called State and Union and it follows several Birmingham families a year after the Supreme Court struck down section three of the so-called Defense Of Marriage Act.
Like most states with marriage bans, Alabama has a high number of same-sex families, the state is far from gay-friendly. The state's Chief Justice believes gay marriage is Satanic and the State House wants a gay marriage ban in the U.S. constitution.
The film's crowd-funding campaign explains the challenges of being a gay parent in the state:
If you are straight, or live in a Blue State, you may not ever have to think about your right to adopt your partner's child, your ability to have a fair hearing in family court, whether there is a form for your family to register for school, whether you will be denied housing, or if you will lose your job, or whether your spouse will inherit your joint estate when you die... These families do.
During a year in which much of the country celebrates the fall of DOMA and the advent of equality, families in Alabama express excitement… as well as increased frustration about the lack of material gains for the Deep South.
Even though there are an estimated 100,000 LGBTQ individuals in Alabama, help from National pro-LGBTQ groups has been slow to arrive. Indeed, Alabama receives only $0.31 in grant funding per LGBT person, compared with more than $10 per person in the Northeast.
But not all the news is bad… [especially] with Freedom to Marry, Family Equality Council, and Human Rights Campaign all announcing Southern Initiatives in the past year. AND Rates of acceptance of LGBTQ issues are changing faster in the Deep South than in many other places, with more than 36% of people in Alabama now reporting a favorable view of marriage equality. While that doesn't exactly keep pace with the rest of the country, it is a shift of 16% in less than 10 years.
In addition to those gains, last July an Alabama judge granted an Alabama lesbian visitation rights to her four children, and earlier this year, the Southern Poverty Law Center filed a lawsuit challenging the state's same-sex marriage ban.
The film's creators say they hope the project will help document life in the highly conservative state at a time when so much is changing, and help start conversations about the inequalities gay citizens face there. Among the families, the film also follows the family of Patricia Todd, the state's first openly gay legislator.
Watch the trailer AFTER THE JUMP…