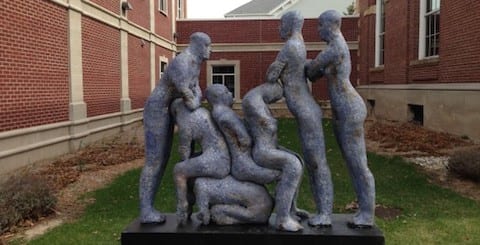 Mark Chatterley's "Blue Human Condition" features seven genderless humanoids leaning against each other in various poses to represent interconnectedness and reliance. The citizens of Adrian, Michigan saw a gay sex orgy and demanded the sculpture's removal a week after it was installed. One person, apparently utterly unaware of how children's minds actually work, commented on the city website:
I believe it is very unfair and unkind to infer that those of us that [view the sculpture as sexual] have "dirty minds" and are "sexually repressed prudes". If so, my children are "dirty minded, sexually repressed prudes" at the ripe age of 10, 11, and 13.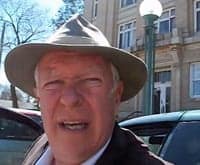 And of course no moral outrage is complete without the input of religious leaders. Local pastor Rick Strawcutter views the combination of the sculpture and the recent passing of an LGBT anti-discrimination ordinance as a conspiracy by city officials to turn Adrian into Sodom.
The sculpture has since been moved to a less public part of the city, and Chatterly has received support from members of the community for creating his work. For his own part, Chatterly says that he makes his works for himself first, and that all of the accusations of lewdness show "what people are really thinking about."
For entertainment value, you can watch Pastor Strawcutter's personal video of the sculpture, complete with righteous indignation, AFTER THE JUMP...