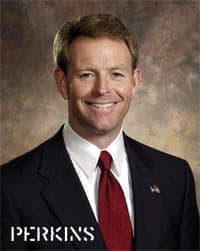 A caller on Family Research Council president Tony Perkins' radio show "Washington Watch" asked the host about his thoughts regarding North Carolina's recent challenge to that state's same-sex marriage ban. The challenge, of course, has turned previous arguments on their heads, with clergy and same-sex couples alike stating that the ban violates the church's religious right to perform the marriages they approve of. 
Perkins, ever an authority on who is deserving of what in American society, gave quite the rich reply.  
Right Wing Watch reported Perkins' statement:
...it's like with the Religious Freedom Restoration Act that we worked on in Mississippi and failed in Arizona and other places, here's a test of what is a true religious freedom, a freedom that's based on orthodox religious viewpoints. It has to have a track record, it has to come forth from religious orthodoxy.
You cannot point to the Christian faith and say that same-sex marriage has been a key teaching of the church. You can only point to the opposite, that the church has stood against sexual immorality in terms of sexual relations of those outside of marriage and in particular homosexual behavior. There is no place, there is nothing for them to stand on and say that same-sex marriage has standing in the orthodox Christian faith.  
The religious right prescribing who should receive religious freedom? It seems that the case out of North Carolina is keeping Perkins and others on their toes.
Listen to the audio, AFTER THE JUMP...