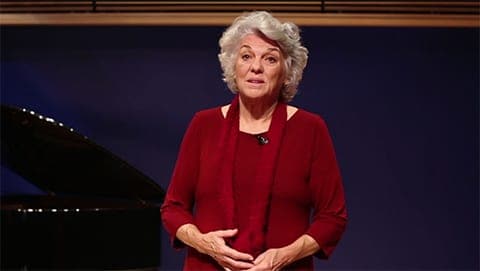 Coming on the heels of her Tony Nomination for her performance in Terrence McNally's new AIDS memory play, "Mothers and Sons," actress Tyne Daly has offered up a performance of a scene from the play for The New York Times. 
The play, which first debuted last June at The Bucks County Playhouse in New Hope, Pennsylvania, is now on Broadway at the Golden Theatre and nominated for two Tonys—one for Ms. Daly and one for the play itself. As our own Naveen Kumar put it, the play "offers a present snapshot of lives affected by the height of the AIDS crisis—a mother who lost her son in his prime, and the lover who survived him to eventually start his own family."  
Watch Daly display her dramatic chops, AFTER THE JUMP…
In case you missed it, check out Naveen's review of "Mothers and Sons" HERE. 
If you enjoyed this post, please consider SHARING it on social media.
Also, please LIKE us on Facebook, and follow us on Twitter, and Instagram.