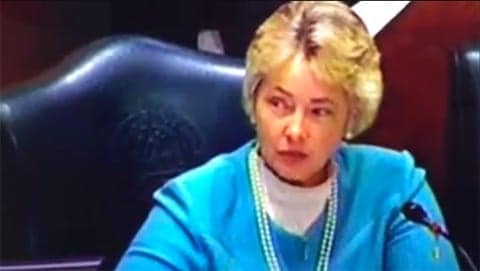 Houston's Equal Rights Ordinance (known as HERO) will not come to a vote for at least two more weeks according to GLAAD. The ordinance, proposed by Mayor Annise Parker, the first openly gay mayor of a major U.S. city, was introduced back in April and would protect the city's public and private employees from workplace, housing and public accommodation discrimination based on their sexual orientation and gender identity. 
The Houston City Council debated the measure yesterday and was set to vote on it as well. However, the vote was stalled by HERO's opponents. The Council did manage to pass two amendments to the ordinance, as The Houston Business Journal reports. The most significant amendment, put forth by Council Member Robert Gallegos, changed the definition of an employer from a business having 50 employees to one with 15 employees. That will expand the jurisdiction of the ordinance and is more in line with similar equal rights ordinances in other large cities, according to Gallegos. The other amendment ensured that HERO would not interfere with veteran or senior discounts. 
Some doubt still lingers over a provision of the ordinance that would provide protections for LGBT persons in public restrooms. That amendment, which has not been accepted by the Council, reads:
"It shall be unlawful for any place of public accommodation or any employee or agent thereof to intentionally deny any person entry to any restroom, shower room, or similar facility if that facility is consistent with and appropriate to that person's expression of gender identity."
Parker was adamant in her defense of HERO, noting that for her, "this is personal":
"It is not academic. It is my life that is being discussed," said Parker, the first openly gay mayor of a U.S. city. "It applies to the range of protected groups ... but the debate is about me. It is about two gay men at this table. It is very intensely personal."
You can watch a video of Parker making her impassioned remarks before the council, AFTER THE JUMP...