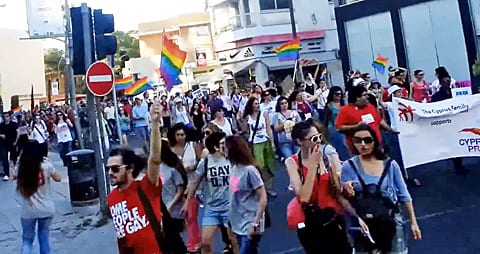 Several thousand people rallied in the streets of Nicosia, the capital of Cyprus, on Saturday in celebration of the country's first ever gay pride parade. Organizers say the crowd number exceeded expectations and showed that Cypriots are beginning to shed their conservative attitudes – despite the appearance of anti-gay protesters who attempted to disrupt the parade.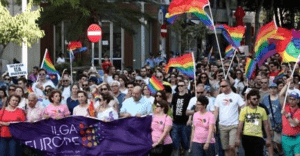 The AP reports:
One of the organizers, ACCEPT-LGBT Cyprus President Costas Gavrielides, said he was overwhelmed because he had expected just a few hundred people to attend the event in the heart of the capital Nicosia.
"This proves that Cypriot society has progressed much more than politicians say," Gavrielides told The Associated Press.
...A small group of Orthodox Christian protesters, some holding crosses, staged a demonstration nearby to denounce the event they called "shameful." Scuffles broke out between protesters and the police as they tried to break a police cordon and approach the parade.
Earlier this month, a bill that would criminalize homophobic behavior was introduced in the Cyprus parliament.
Chceck out some amateur video from the march, AFTER THE JUMP...