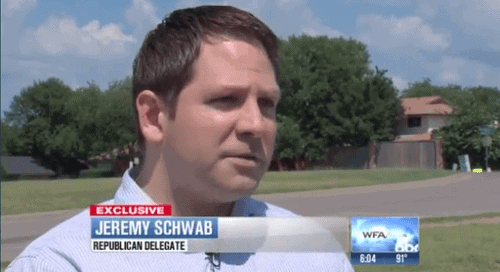 Jeremy Schwab, the 'ex-gay' Texas Republican delegate behind the party's "reparative therapy" plank in its new platform, is speaking out in defense of the therapy and says he's surprised with all the media coverage of the issue.
WFAA reports:
"There are counselors out there who help us overcome same-sex attraction by finding need fulfillment in other ways in our lives and by addressing emotional wounds, and that has reduced the same-sex attraction significantly," he explained.
Schwab said he lived 12 years as a gay man, but reduced his same sex attraction through prayer, counseling, and emotional healing.
"The gay lifestyle is just not an option for us, because of our own faith and our own values," he said. […]
Schwab later admits that "reparative therapy" isn't the best name for the counseling, because it isn't about "repairing" anyone who's broken.
Perhaps "snake oil therapy" was already taken as a name option?
Watch, AFTER THE JUMP…