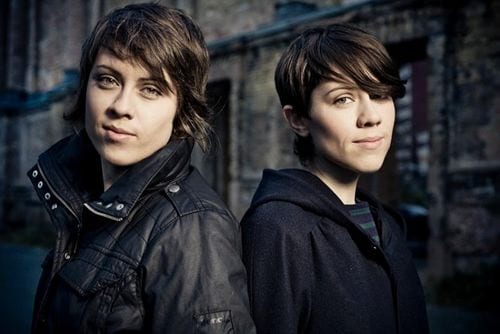 When actress Ellen Page made headlines coming out earlier this year, she name-dropped a few notable out celebrities, including football star Michael Sam and recent Time Magazine covergirl Laverne Cox. While those names are familiar (especially to readers of this blog), she also gave a shout-out to musicians Tegan and Sara Quin.
They may not have the name recognition as the traditional spate of gay icons, but Tegan and Sara have been providing the soundtrack to many an awkward adolescence since the release of their official debut full-length album in 1999. The lesbian twin sisters have spoken openly about their sexuality while building a career on expertly-crafted songs ranging from folk to rock to pop.
"As a political person who makes popular music that has nothing to do with politics," Sara told The Advocate last year, "I think it's important to be visible and have my politics be visible in appropriate ways offstage. I don't want to make a political record, but I'm going to leave a political record offstage."
Though certainly not as widely celebrated in the gay community as classic Judys or Madonnas, the Sisters Quin have become champions for many indie, oddball LGBT youth. The band's signature humor, positivity and vulnerable songwriting keeps growing their fanbase as their profile continues to rise.
Enjoy some of our favorite Tegan and Sara tunes and clips, AFTER THE JUMP ...
Tegan and Sara grew up in Canada at a time when Ani DiFranco, Melissa Etheridge and k.d. lang were releasing some of their most influential music. In the video above, they speak about coming to terms with their sexuality and why it was so important for them to be out artists. Sara says: "I choose to be a visible minority every day. I come out every day. I actively look for ways now to talk about who I am because I want to live as openly as I can, but I also want to inspire those who… living and being themselves is a tremendous effort and takes a tremendous amount of courage."
The band's earlier work leaned much more toward DiFranco-influenced folk. See them play "My Number" from their album This Business of Art on David Letterman in 2000, above.
By the time they released their 2009 album Sainthood, they seemed to solidify a shift to a more indie-rock vibe. Though songs like "Northshore" highlighted some of their punk roots, others like "Alligator" (above) began to hint at more pop material to come.
The band's latest album, Heartthrob, fully embraced pop music. Lead single "Closer" (above) is a quintessential earworm (and even got the Glee treatment). The album enjoyed critical and commercial success, and it scored the band an opening slot on Katy Perry's North American tour.
Part of what's endeared Tegan and Sara to fans is their live act. The sisters seemingly endless amount of tours feature excellent live performances, but also the kind of banter that could only be provided by twin sisters. The clip above shows a bit of the between-song chatter the sisters share, as well as ballad "Love They Say." As Tegan tells the crowd: "This song is only for gay people!"
Do you prefer Tegan and Sara's folk material or the more recent pop songs?