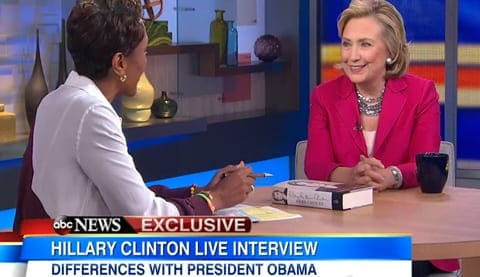 Hillary Clinton sat down with Robin Roberts to discuss her new book Hard Choices and her interview last night with Diane Sawyer.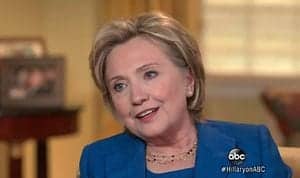 Sawyer asked about her health, her wealth, Monica Lewinsky, and whether she plans to run for President.
Clinton told Roberts that she believes there were "systemic problems" in the State Department that, had they been known about, could have prevented what happened in Benghazi.
Clinton also discussed statements that she made to Sawyer suggesting that she and former President Bill Clinton were "dead broke" when they left the White House. Conservatives have pounced on them, asserting that Clinton is out of touch.
Roberts also asks about Clinton's concussion, her current health, and her relationship with President Obama and ties to his legacy.
In the second part of Roberts' interview, Clinton talks about sexism in the 2008 campaign and her refusal to criticize Sarah Palin, or anyone, for their gender.
Clinton says that she and Bill are together a lot these days and says that she has not pressured Chelsea about what she should name her grandchild.
Clinton also names her favorite Republican and the living person she admires most.
Watch the Sawyer interview and the Roberts interview, AFTER THE JUMP...