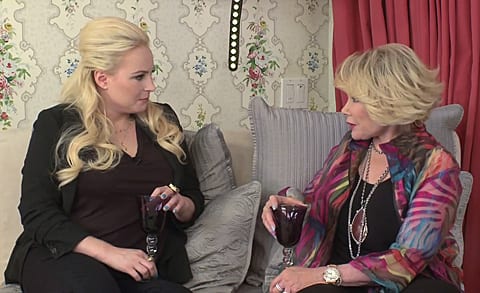 Meghan McCain, the newest board member of GLAAD, got in bed with Joan Rivers, and they talked about being 'liberal' Republicans in support of social issues like gay rights, abortion.
McCain said she learned a lot watching The Normal Heart:
"I didn't even know some of the history behind the AIDS epidemic and how the government never helped and Ronald Reagan didn't say the word AIDS until...? I am embarrassed that I didn't know the history was quite that extreme and it's a dark part of our history."
Both McCain and Rivers cite their gay hairdressers as prompting their support for gay rights.
Cindy McCain's war with Gwyneth Paltrow, her upbringing, her internship at SNL, her dating life, wanting to be the political Chelsea Handler, and her hatred for Ann Coulter.
Watch, AFTER THE JUMP...