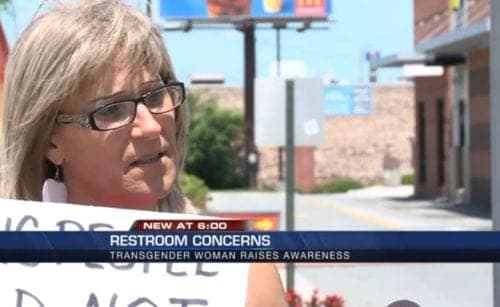 McDonald's made the news this week, though not for the usual reasons (obesity, unhealthy fast food, burning hot coffee, etc...). Eryn Brown, a transgender woman from Richmond, VA says that the restaurant denied her entry to the women's restroom. Brown has been protesting outside the McDonald's.
GayRVA reports:
"They would either stop me at the door or just before I got to the door," Brown told WRIC-CBS 6. "They told me that I wasn't to use the women's bathroom, I'm to use the men's."
There is no law protecting or requiring equal treatment for transgender people here in VA, and Brown said this is an issue trans people face often.
"That's something that all transwomen face," she said. "Violence and possibly getting raped."
According to the news report, McDonald's management has claimed that they will look closely at the situation for evidence of customer mistreatment or discrimination.
Watch the CBS 6 story, AFTER THE JUMP...