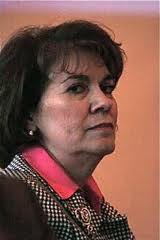 On yesterday's radio program, Mission America's anti-gay wingnut Linda Harvey expressed her extreme displeasure with Laverne Cox's appearance on the June 9th issue of TIME and called trans rights "spiritual deception on a wide scale."
Said Harvey:
"I think America is quickly moving into chaotic territory where we are blessing and approving behaviors that so completely defy reality and the will of God that the consequences will be devastating, especially to kids. If Satan were to devise a strategy to confuse and undermine the moral base of America, he could not have chosen a better vehicle than pushing gender confusion, which is just the latest offshoot of the homosexual movement...
Listen to Harvey's full rant, AFTER THE JUMP...
[via Right Wing Watch]