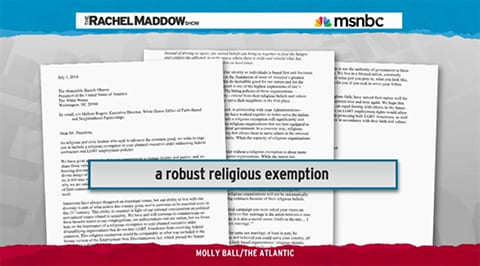 As mentioned in our coverage of the Supreme Court's Hobby Lobby decision earlier today, religious leaders close to The White House sent a letter to President Obama on Tuesday, petitioning for a "robust religious exemption" to President Obama's earlier announced executive order that would make it illegal for all federal contractors to discriminate in the workplace on the basis of sexual orientation and gender identity, The Washington Post reports. This letter comes on the heels of a previouis letter from 140 religious leaders asking for a similar exemption. Importantly, Tuesday's letter was sent in the immediate wake of the Hobby Lobby decision at the Supreme Court. The letter argues that religiously affiliated organizations should be able to discriminate against LGBT people:
The letter reminds Obama of his own earlier faith-based opposition to same-sex marriage, as well as the government's massive partnerships with faith-based social service groups that work on issues including housing, disaster relief and hunger. […]
"An executive order that does not include a religious exemption will significantly and substantively hamper the work of some religious organizations that are best equipped to serve in common purpose with the federal government.," it said. "When the capacity of religious organizations is limited, the common good suffers." […]
"Without a robust religious exemption . . . this expansion of hiring rights will come at an unreasonable cost to the common good, national unity and religious freedom."
None of the groups mentioned in the letter have explicitly said they would pull out of their partnerships with the White House if they do not get an exemption.
Executive Director for the National Center for Lesbian Rights Kate Kendell commented on the request for a religious exemption, stating, "This would be a catastrophic erosion of non-discrimination protections. We will not stand for this."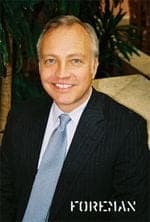 Meanwhile, Former Director of the National Gay and Lesbian Task Force and Towleroad guest blogger Matt Foreman, also took issue with narrower interpretations of The Hobby Lobby ruling and asserted how disastrous it would be for the LGBT community should Hobby Lobby influence a religious exemption to President Obama's executive order:
Such an exemption would have been bad enough before Hobby Lobby, but the decision makes it even more deadly. The Hobby Lobby majority said the decision shouldn't be read to undermine employment nondiscrimination laws. BUT if the EO contains the ENDA exemption, there's nothing to stop the reasoning in Hobby Lobby from having full force and effect in justifying anti-LGBT discrimination by federal contractors - pushing the door even more widely open for discrimination against our people for essentially any reason whatsoever.
The only acceptable religious exemption is the one long-contained in Title VII. Anything else can spell disaster for years to come, including profoundly weakening the impact of future federal nondiscrimination laws and our hopes to secure meaningful civil rights protections in the 29 states that still lack them.
There is no moral or political justification for President Obama to cave and endorse LGBT people having less protections from discrimination than other Americans. This issue is not a side show; it is core to our equality.
You can read the letter to the President for yourself, AFTER THE JUMP...
Religious Exemption Letter to President Obama by atlanticonline