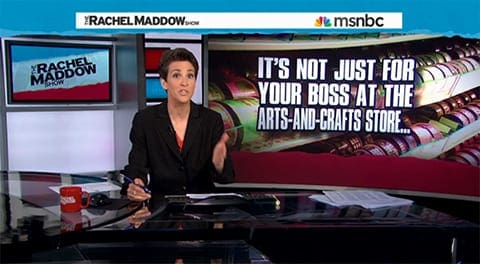 Last night Rachel Maddow took time to focus on the broad and dangerous impact of the Supreme Court's Hobby Lobby ruling, particularly, how the claim of "religious freedom" is already being used by religious groups to justify anti-gay discrimination:
"These groups want their religious beliefs to excuse them from having to follow the law on, not just contraception, not just health law rules, but on non-discrimination. They now, because of this ruling, want a religious exemption from laws that say you can't fire someone for being gay. They want to be able to fire people for being gay because they think God wants that."
Watch the segment, AFTER THE JUMP...
You can also read Ari Ezra Waldman's incisive analysis of the Hobby Lobby ruling HERE.