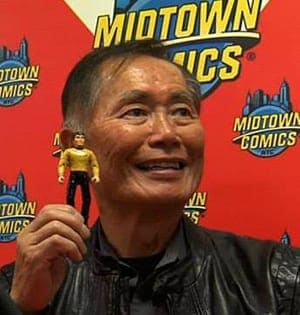 Brace yourself and gird your Facebook feed — a viral tsunami is headed our way. It's To Be Takei, the Sundance-acclaimed documentary about George Takei — man, legend, Internet institution, and sex symbol — the latter title, as bestowed by Dan Savage in the film's trailer. Starting tomorrow, Friday July 3, the film will be available on DIRECTV Cinema, via DIRECTV and Starz Digital Media. It screens there through August 6, giving DIRECTV users a chance to watch the film in advance of its wide release.
In the years following his iconic portrayal of Sulu on Star Trek, Takei has built a cult following for his Facebook updates, his political outspokenness, and his great sense of humor. ("I was the best helmsman in the galaxy... and put to rest all that stereotype about Asian drivers.") The new documentary gives us a glimpse into the actor's personal life. He discusses his coming out story, and his 18-year relationship with husband Brad Altman.
At the end of the film trailer, 77-year-old Takei assures us "It's okay to be Takei!" Much less "okay," I would argue "being Takei" is aspirational!
Check the trailer out, AFTER THE JUMP...