The motion to dismiss the challenge to that state's ban on gay marriage (filed last month) was introduced late Tuesday by the state attorney general's office.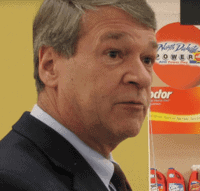 North Dakota Solicitor General Doug Bahr wrote in his 50-page proposal:
"Nothing in the United States Constitution prevents the people of North Dakota from defining marriage as the legal union between a man and a woman…The people of North Dakota, through the deliberative political process, retain the traditional understanding of marriage as the union between a man and a woman….The fact North Dakota's marriage laws are different from the marriage laws of some other states does not establish a viable claim that the challenged provisions violate the right to interstate travel."
Additionally, according to Forum News Service, Bahr argues the state needs more data on gay marriage before it considers making it legal.
"No society has yet had a generation's worth of experience permitting same-sex marriage. Other states' experience with same-sex marriage could provide valuable practical data about the effects of same-sex marriage," Bahr wrote. "North Dakota could rationally decide to wait until it obtains more information about the effects of same-sex marriage before deciding to permit it in North Dakota."