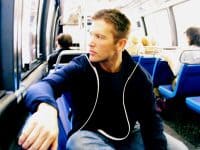 Towleroad began in 2003 and is now a leading online news source offering a broad range of information on politics, pop culture, gay culture, media, entertainment, photography, fashion, technology, men, music, and travel.
Editor: Andy Towle

Partner: Michael Goff

Contributing Writers: Josh Helmin, Josh Koll, Lewis Payton, Christopher Rice, Kevin Sessums
Publisher: Broadblast Corporation, 848 N. Rainbow Blvd., #1772, Las Vegas NV 89107.
Send us tips at www.towleroad.com or use our tips form
For submissions and snail mail correspondence:
Use the contact form to ask for the right address.
Looking for advertising information?
Urgent issue? Give a call.
Click below to have the service call you and connect you.
About Andy Towle:
Andy Towle's experience in
media and entertainment spans several industries. He currently writes and runs
the widely-read gay news blog Towleroad. Before Towleroad, he was Editor in
Chief of Genre magazine, a nationally distributed gay
men's lifestyle publication, and Editor at Large for The Out Traveler, a national quarterly publication produced by LPI Media. Prior to
that he was a Music Editor for Tribe Online USA, where he produced and edited a
content-heavy website for an Australia-based media company. He worked in
feature film development at Twentieth Century Fox for four years, assisting in
the development of over thirty projects for their Feature Animation and Family
Films divisions.
He holds degrees in Art History and English from Vassar College, and was awarded a Wallace Stegner graduate
fellowship at Stanford University, as well as two writing fellowships at The Fine Arts Work Center in
Provincetown, Massachusetts. His writing has been published widely.
About Michael Goff:
Michael and Andy teamed up to work on Towleroad, ModUrban Media and other projects in May, 2006. Back in the 90s, Michael founded Out magazine (and out.com) after working as a magazine editor. He was editorial director of Sidewalk, Microsoft's online city guide (sold to Citysearch); General Manager of MSN.com; and managing partner of The Accelerator Group. He built and folded a mobile technology company; was Dan Gilmore's partner in early citizen-journalism effort, Bayosphere; and has advised startups including (pre-Google) Blogger, Treehugger.com, and NowPublic.com. He's served on the Outfest and CRIA boards, was an early ACTUP member, wrote the Gaydar media column for Outweek, and led the initial Clinton Foundation AIDS Initiative volunteer team in Haiti for a year. He's based in Venice, California. More about Michael on Goffspot. But don't expect a blog. It's for experiments.
Get your very own Towleroad T-shirt by making a donation of $25. Details here.