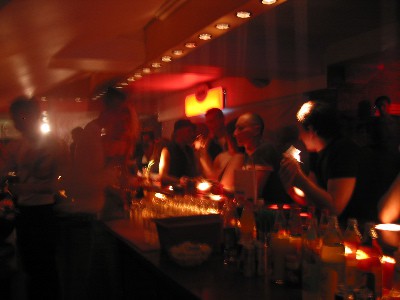 Today I discovered Daily Tunes which allows people to recommend songs and then link directly to the iTunes music store. It's an interesting concept. My musical tastes this month were wide-ranging. Some new stuff, and a whole lot of retro stuff since I started converting my CDs to mp3s. A few of these tracks you might like to pick up before your pumpkin carving party.
Seal * "Love's Divine" (Deepsky Mix)
These Deepsky guys (I interviewed them a couple years ago – their studio was in an old building at Hollywood and Vine) were heavy trancers (you know, the really frantic beats and fake violin synths) and if this mix is any indication they've mellowed quite a bit and are really heading more mainstream. How do I describe it – uplifting, ethereal, an absolutely compelling pop remix? Seal's voice blends wonderfully with the stabbing synths and the piano breaks are just heartbreaking. The lyrics are great. I love it.
Kristine W * "The Wonder Of It All" and "Fly Again" (Scumfrog Mix)
I interviewed Kristine a couple years ago as well, right when her Stronger CD was coming out and she just seems to get better. I'll try and dig up that interview. The girl has been around for years, you gotta give it to her. "The Wonder Of It All" is a beautiful ballad that's just begging for a dance remix, but it's great on its own too. Don't get caught singing it out loud in the car. "Fly Again" is pure fun. Scumfrog has been pumping out a lot of remixes of late and this is one of his more fully realized moments. Both songs are from the new album Fly Again.
Finley Quaye and William Orbit featuring Beth Orton * "Dice" (Layo and Bushwacka Mix)
Just a great combination of talent here. Alternative, electronic, soulful. Great lyrics, a bit of guitar. The vocoder makes the vocals sound a bit Dirty Vegas, but I just love the sound of Beth Orton's voice. If you've never sampled any of her tunes, you should.
Bent * "Magic Love"
My fifth and final selection for the moment comes from Bent's new album with the great title, The Everlasting Blink. If you like groups like Zero 7 you'll love Bent. "Magic Love" has a deep, mellow house groove and a vocal that reminds me of Viola Wills on the old disco cut "If You Could Read My Mind". Maybe it's because she says something about "the book I read" and the lyrics are similar, but in any case it has a great vibe about it. "King Wisp" is a great track off the album too. The whole CD is chill and terrific.
The downer of the month is a Thunderpuss remix of Luther Vandross' "Can Heaven Wait" which is not dancefloor material. The beats are great but about three and a half minutes in the lyrics start. They're about a girl about to die in a coma or something like that. Serious buzz kill material.