"By persistently remaining single a man converts himself
into a permanent public temptation." — Oscar Wilde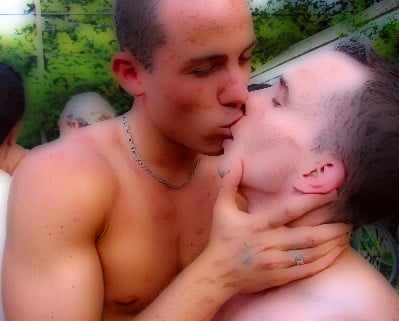 As President Bush warns America in his State of the Union address of the upcoming battle for the altar regarding Massachusetts' ruling that there is no reason to deny gay people the same basic rights as their straight counterparts, The New York Times reports on the flurry of activity in that state's gay Mecca:
"Since Massachusetts' highest court ruled in November that gay couples have a right to marry under the State Constitution, Provincetown — a clamorous beach community known for its gay-friendly atmosphere and night life — has been gearing up for an unlikely windfall: the wedding business. Already one inn, the Fairbanks, is offering a $195 "Pop the Question" special."
This rush to love by same-sex committed couples is a threat to right-wing Bushies, who cloak their bigotry in a hateful and twisted view of "sanctity." In his speech last night, Bush said:
"Activist judges, however, have begun redefining marriage by court order, without regard for the will of the people and their elected representatives. On an issue of such great consequence, the people's voice must be heard. If judges insist on forcing their arbitrary will upon the people, the only alternative left to the people would be the constitutional process. Our nation must defend the sanctity of marriage."
I find it fascinating that Bush chooses to criticize the judicial system, whose "activist judges" exercised the "arbitrary will" that somehow ushered him into office three years ago. I didn't hear any complaints about activism then.
There's a major battle brewing and our major weapon is the ability to be visible and to use that visiblity to wipe out ignorance. We will eventually prevail. Okay, that's my political rant for today. Go do it in P-Town. Just don't turn it into the gay Niagara Falls.
Oscar Wilde once said, "Men marry because they are tired; women because they are curious. Both are disappointed." The fabulous and witty Dolly Parton agrees. When asked by Melissa Etheridge whether or not she supports same sex marriage, she replied, "Hell yes, you people should have to suffer just like the rest of us."