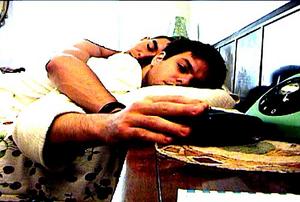 I'm really interested in seeing Tarnation, a new film that's having its premiere at the Sundance Film Festival. While the story, which concerns a young gay man who leaves behind his partner, his acting career, close friends, and freedom to return to his childhood home in Texas to care for his schizophrenic mother, sounds interesting depressing, I'm more interested in seeing the craft of the film itself.
Written and directed by Jonathan Caouette, the film is an autobiographical patchwork of photos, Super-8 film footage, audio tapes, and VHS home movies. Caouette edited the "documentary" in iMovie, Apple's low, low, low end film editing program. Both Gus van Sant and John Cameron Mitchell have signed on as executive producers.
The movie cost $218.32 to produce. It's really a testament to the fact that everyone now has the tools to create viable pieces of art. Now it's all about having the talent to create something people will actually want to watch. Read more about it here.