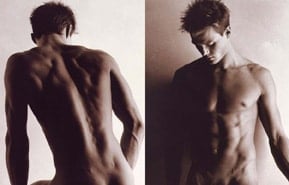 I've been reading and listening to some engrossing stuff lately.
As I See It (Collector's Edition) by Greg Gorman
First things first. The two shots above are available in their full length versions in photographer Greg Gorman's gorgeous tome As I See It. And let me assure you, they're stunning. That's Josh Duhamel, and he's available in the book in his entirety. For those of you that have to have it all.
Michael Jackson: The Magic and the Madness — J. Randy Taraborelli
A special shout out to one of my readers, J. Randy Taraborelli, who recently gifted me with his voluminous study of the life of Michael Jackson. I have to say, it's certainly a great companion to all the media attention the gloved one is getting these days. This book is more intoxicating than Jesus Juice.
Talkie Walkie — Air
In a lot of ways, the French group Air is similar to the Pet Shop Boys, although they've got a totally different sound. They're a duo whose sound is fiercely independent, and they're best when they focus on the romantic qualities of that sound. This record, like their first, Moon Safari, is filled with dreamy melodies and sonic journeys that are complex and rewarding. You'll recognize "Lost in Kyoto" from the Sofia Coppola film Lost in Translation. This will be one of the most highly regarded records this year.
When It Falls — Zero 7
I've heard some advance tracks from Zero 7's latest disc and it's better than their first. If you loved their songs "Destiny" and "In the Waiting Line" this is more of the same. Run, run, run to get this.
"Tell Me" — Wax Poetic featuring Norah Jones Nublu Sessions
I've always felt that somebody should give Norah Jones a cup of coffee and wake her up a bit. Her voice is smooth as cream on this jazz-infused, warm, groovy record from Wax Poetic. In fact, the entire album is filled with lush, kick-back, chill tracks.
"Cannot Contain This" — Moloko
Upon first listen, there's really nothing too special about this latest single from Moloko. But you'll find it creeping into your system soon enough. The Gus Gus remix is really outstanding.
"Supernatural Thing" — Freeland
This is a little progressive house gem that's been bubbling around on UK charts for months now. Dramatic, soulful vocals and an uplifting, dramatic arrangement, with a great remix by Tom Middleton.
3am: In Beats We Trust — Sidestepper
If you're a fan of Bebel Gilberto or the Gotan Project, or interested in chill-out electronica that crosses cultural boundaries you'll love this. Exotic without being inaccessible, I'd rate this disc among my top 10 in the last year. It's a downtempo Latin and electronica hybrid. I just keep finding new tracks that pique my interest.
"God Is a DJ" — Pink
This latest single from Pink has an amazing, catchy chorus: God is a DJ/Life is a dancefloor/ Love is a rhythm/You are the music/You get what you're given/It's all how you use it. That sold me.
"I Like Love (I Love Love)" — Solitaire
Just a great, catchy new filtered house track.
"Mindcircus" — Way Out West
The hot new track from Way Out West is stylistically hard to pin down. Dreamy, female vocals and a variety of remixes on this disc means there will be something for everyone.